7 Best Mobile Games of 2023 available now!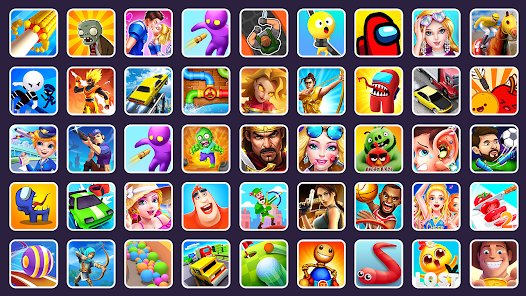 Introduction
There's no shortage of great mobile games these days. Whether you're looking for a time-waster or an immersive RPG experience, there's something out there for everyone. In this list, we'll be covering the best new and classic mobile games that are available right now in 2023!
1. Minecraft: Pocket Edition
Minecraft: Pocket Edition is a sandbox video game created by Swedish game designer Markus "Notch" Persson, developed and published by Mojang. The creative and building aspects of Minecraft enable players to build constructions out of textured cubes in a 3D procedurally generated world. Other activities in the game include exploration, gathering resources, crafting, and combat. Multiple gameplay modes are available, including survival modes where the player must acquire resources to build the world and maintain health, a creative mode where players have unlimited resources to build with and the ability to fly, an adventure mode where players can play custom maps created by other users with certain restrictions for rewards when completed successfully.
Minecraft has been called one of "the most influential games ever created", as well as being in the list of all-time best-selling video games sold worldwide. The game's popularity has led to it being used as an educational tool across schools around the world. In 2013 it was estimated that over 100 million people had played Minecraft, with about 70 million unique users playing at least once every month. By early 2018 (nine years after its full release), over 144 million copies had been sold across all platforms but only mobile devices had sold more than 10 million copies.
2. Star Wars™: KOTOR
Star Wars: Knights of the Old Republic is a role-playing video game developed by BioWare and published by LucasArts. The game was released in December 2003 for Windows PCs and November 2004 for Xbox, with Mac OS X and iOS versions following years later. KOTOR uses the d20 System licensed from Wizards of the Coast to resolve conflicts via attributes, skills, feats and hit points.
KOTOR focuses on a conflict between two factions: the Jedi Order, who follow their belief that all beings can learn to use the Force; and Darth Revan's Sith Empire, which believes in using Dark Side powers for personal gain at any cost.
3. GTA San Andreas for Android
GTA San Andreas is an open-world action adventure video game developed by Rockstar North and published by Rockstar Games.
It was released on 26 October 2004 for the PlayStation 2 console, and later for Microsoft Windows and Xbox.
Set within the fictional U.S. state of San Andreas, loosely based on southern California, Las Vegas, Nevada and areas of Mexico City such as Guadalajara and Los Angeles (East Los Santos), the single-player story follows Carl "CJ" Johnson returning to his home turf in Los Santos after spending eight years in Liberty City upon receiving news that his mother has died.
4. Infinity Blade III
Infinity Blade III is one of those mobile games that you can pick up and play for a few minutes, or a few hours. And if you're anything like me, that's what you'll do whenever you have some free time. This game is great for anyone who likes action RPGs, but it's also fun even if you've never played an RPG before. It has amazing graphics, sound effects and story that will keep players coming back again and again!
5. Pocket Mortys, Rick And Morty Game For Android and iOS Devices
Pocket Mortys is a mobile game based on the popular animated series Rick and Morty. It's an RPG turn-based game that lets you capture, train, and battle with Pokemon-style creatures called Mortys.
The concept of this game is pretty simple to understand: you are Rick, the genius scientist who has just crashed his spaceship into an alternate dimension full of strange creatures that look like tiny versions of himself! As Rick, you must do everything in your power to collect as many Mortys (the creature) as possible so that you can build an army strong enough to help you escape from this weird dimension.
6. Hitman Sniper
Hitman Sniper is an action-packed game that places you in the role of Agent 47, a master assassin known for his ruthlessness. 44 levels await you, each with its own unique challenges and objectives.
Don't let the name fool you; this isn't just a sniper game! You'll need to use various weapons and tactics to accomplish your goals. For example, if your target spots you while climbing up the side of an apartment building, you can use tranquilizers or explosives to incapacitate them so they won't spot more guards or alert authorities who might be nearby. If things go south and someone finds out about your mission before it's complete, try using disguises or distractions like drones or loud music until everyone goes back to normal (and/or dies).
Succeeding in Hitman Sniper requires skill in stealth and strategy as well as patience—you might not always get what you want right away!
7. MARVEL Contest of Champions
Marvel Contest of Champions is a mobile fighting game by Kabam, released in 2015. The game is set in the Marvel Universe, specifically the Avengers movie universe. It combines elements of collectible card games like Hearthstone and role playing games like Final Fantasy to create something unlike any other fighting game on the market.
In MCOC, you build up a team of superheroes from across multiple franchises like Spider-Man, Black Panther, Wolverine and Hulk (the green one), then send them out to fight other heroes in an arena until one player wins all three rounds of combat. Each character has their own unique abilities and powers that players must use effectively to succeed against opponents with different strengths and weaknesses
The best mobile games of 2023 that are available right now on Android, iOS, and other mobile platforms!
What are the best mobile games of 2023?
Made you look! This is a list of the top mobile games of 2023 that are available right now on Android, iOS, and other mobile platforms. It's also a list of free-to-play and paid games.
Conclusion
If you're looking for some great games to play on your mobile device, look no further! We've compiled a list of 7 of the best mobile games of 2023 that are available right now on Android, iOS, and other mobile platforms!
Check out the Best Puzzle RPGs Here